Duma Voting Trends
008
For which of the following parties or blocs would you be most likely to vote if there were elections to the State Duma next Sunday? (Trend)
parties, support, vote; party preference; intention; Levada Center (formerly VCIOM), 1999, 2003, 2007, United Russia, Right Forces, Communist, Liberal Democrats, State Duma, Fair Russia, Yabloko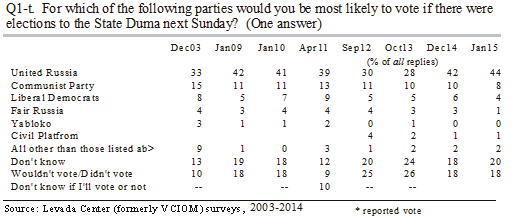 ---
489
Do you think that elections to the State Duma this year will be on the whole
elections; lawful; honest; fraud; ballot-stuffing; manipulation; transparent; open; dirty tricks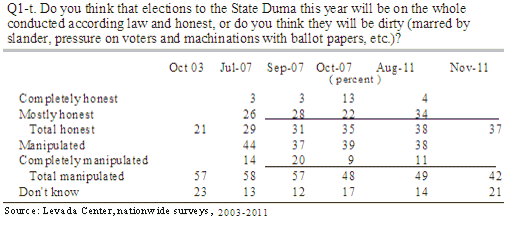 ---
506
Q. In which party's interests do you think the election will be manipulated?
United Russia; LDPR; KPRF; Fair Russia; Right Forces; Yabloko; Communist Party; electoral fraud; falsification; manipulation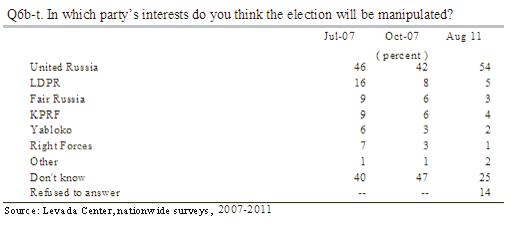 ---
218
Which of the following parties or political outlooks do you most sympathize with?
trend, party, parties, political, outlook, sympathize, Levada Center, VCIOM, 1999 - 2006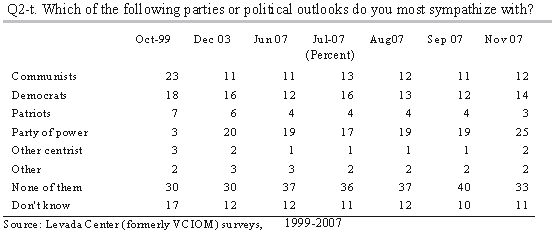 ---
004
If elections to the State Duma took place next Sunday, which of the following statements most accurately reflects your intention to vote? (One answer only)
State Duma, elections, next Sunday, reflect, intention, vote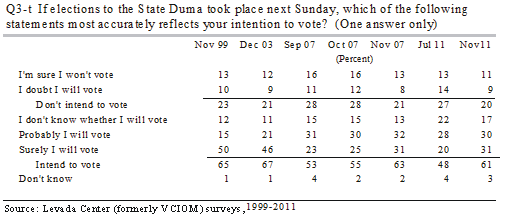 ---
106
(If not intending to vote) Why are you unwilling to vote or why do you doubt that you will vote in the elections?
voter abstention; absence; participation; trust; interest; elections; falsification; scandals; influence; apathy; indifference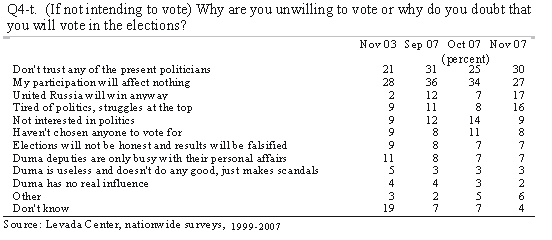 ---
490
Q5-t. Which parties have you heard of? Any others? What else? (More than one answer)
parties; party; name recognition; knowledge; United Russia; Liberal Democrats; Communist Party; Communists; Yabloko; Union of Right Forces; Fair Russia; Agrarians; Greens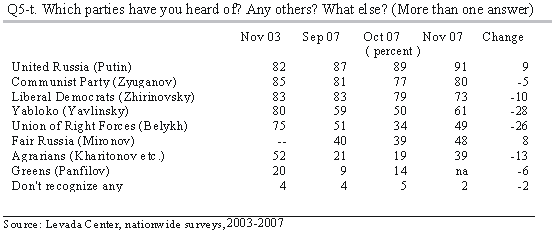 ---
416
What explains your intention to vote for this party or bloc?
reason, vote, choice, Party of Putin; leader, support programme, defends interests, normal, future, young, friends, family, strongest party,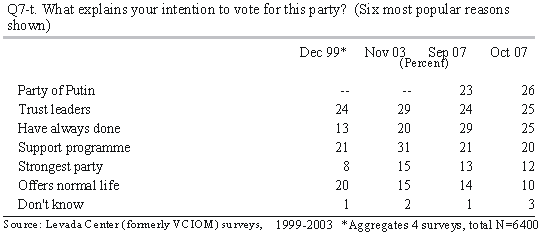 ---
429
(Only if chooses a party in Q1). How sure are you that you will vote for this party or bloc?
trend; vote; preference; sure; intention; stability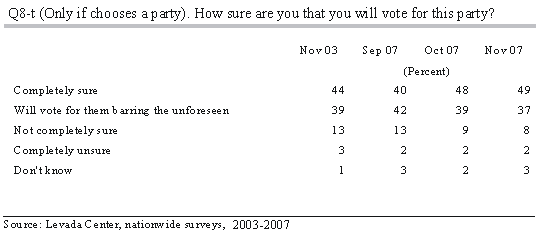 ---
014
What are the chances of the party or movement for which you intend to vote at the next elections?
chances, party, next elections, majority, Levada Center (formerly VCIOM), 1999, 2003,2007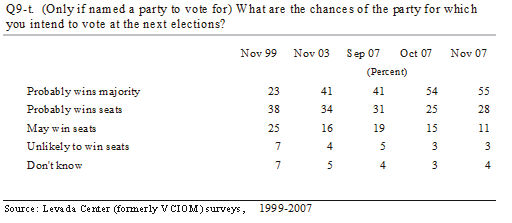 ---
016
And which of the following parties would you NEVER in any circumstances vote for in elections to the Russian State Duma? (Several answers possible)
parties, never vote for, Russian State Duma, Levada Center (formerly VCIOM), 1999, 2003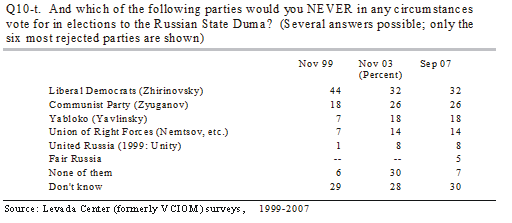 ---
519
Q. Do you agree with those who say that United Russia is the CPSU of today?
ruling party; party system; CPSU; authoritarianism; dictatorship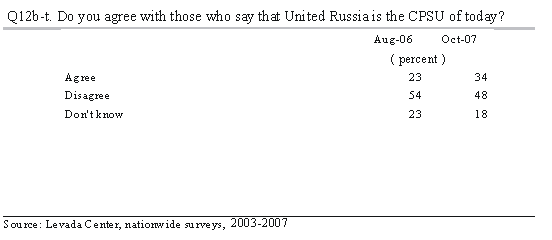 ---
508
Q. How many political parties does Russia need now?
ruling party; party system; number of parties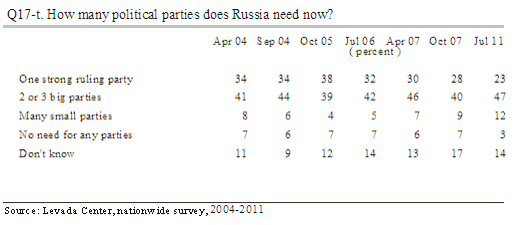 ---
Top of Page