Voting Behaviour - 2008 Presidential Campaign
---
620
Q1. If a new presidential election was held next Sunday, would you vote and which of the current politicians would you vote for? (NB: open list)
2008; president; election; campaign; voting; Putin; Medvedev; Zyuganov; Zhirinovsky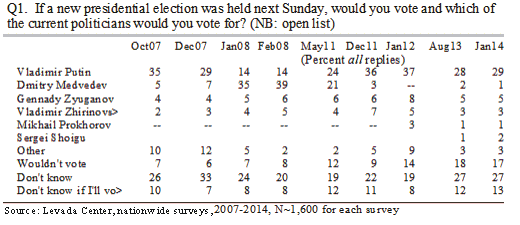 ---
475
According to the constitution, Vladimir Putin cannot take part in the presidential elections in 2008. What should he do in this situation?
constitution, Putin, ineligible, candidate, third term, president, Levada Center, 18 - 21 August, 2006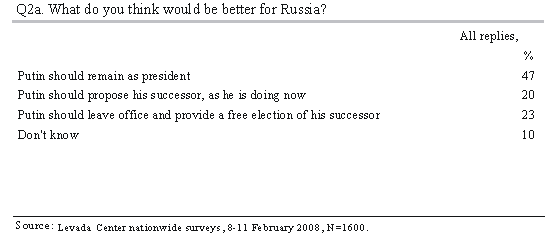 ---
525
Do you think the presidential election on 2 March will be a real struggle for power between candidates or just the imitation of such a struggle, and the votes will be distributed according to decisions by the authorities?
vote; president; fairness; competitiveness; power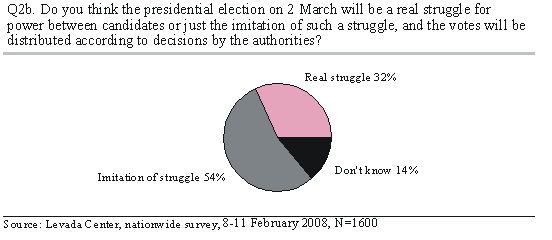 ---
023
If presidential elections took place next Sunday, which of the following statements would most accurately reflect your intention to vote?
intention to vote; turnout; likelihood to vote; president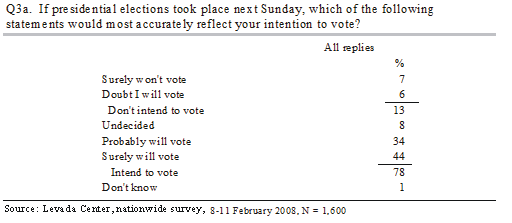 ---
461
Who would you vote for in Russian presidential elections if Putin did not take part, or would you not vote, or vote against all?
Russian presidential elections, Putin, vote, Levada Center, 16 - 19 February, 2007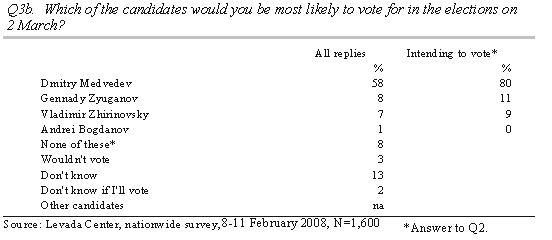 ---
027
How sure are you that you will vote for that candidate?
vote; candidate; preference; sure; settled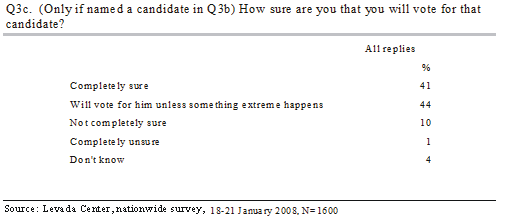 ---
522
(Only if named a candidate in 3b) Why do you intend to vote for this candidate?
Personal qualities (frankness, honesty, etc.) Close to/Liked by Putin Stands for restoring the system of social protection for workers and pensioners Can ensure order in the country better than others Stands for fair redistribution of wealth in the country, reducing income gaps Defends the interests of ethnic Russians There is no one else/no one better etc. Represents the political party/bloc which I support Supports strengthening the role of the state in the economy Stands for fast economic reforms and against state interference in the economy Resists the spreading influence and domination of the West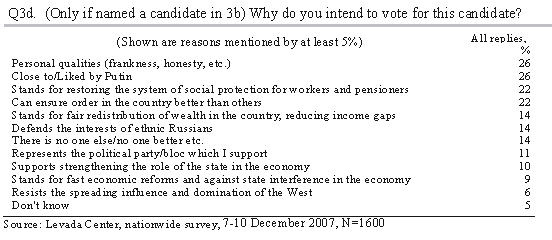 ---
207
What do you expect most of all from a President that you could vote for? (Several answers possible)
chechen war, russa great, law and order, income, reform, economy, social protection, reunification, rapprochement West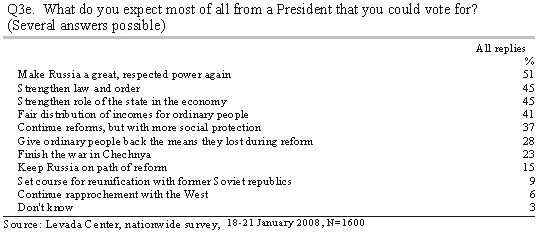 ---
053
Which of the following would you NOT wish to see as President of Russia? Who else? (Several responses possible, closed list of seventeen politicians)
vote; president; least favoured; candidate; Zhirinovsky; Yavlinsky; Nemtosv; Zyuganov; Kasyanov; Zubkov; Medvedev; Ivanov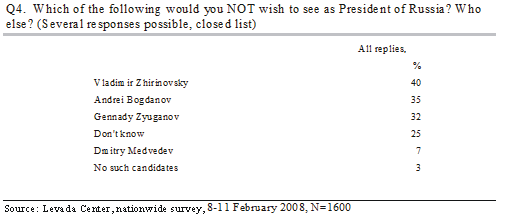 ---
043
What do you think are the chances of the candidate for whom you intend to vote at the coming elections?
president; vote; chances; winner; candidate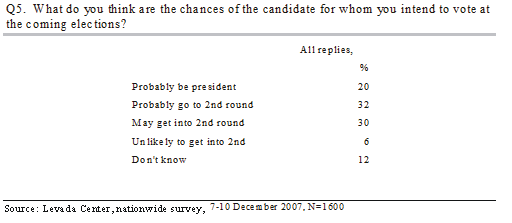 ---
055
Who do you think will become the next President of Russia? (show card; only one reply allowed)
president; Russia; future; winner; candidate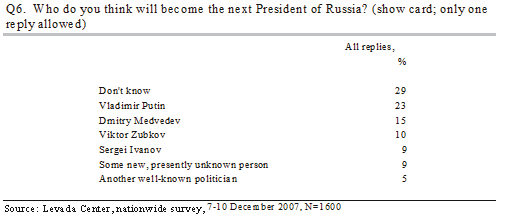 ---
220
Which of the following parties or political outlooks do you most sympathize with?
political, outlooks, sympathize, Levada Center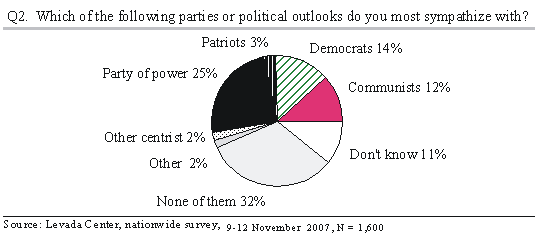 ---
Top of Page