Voting Behaviour - 2007 Duma Campaign
---
621
Q1-t. For which of the following parties would you be most likely to vote if there were elections to the State Duma next Sunday? (One answer)
2007; Duma; campaign; voting; United Russia; Communist Party; Liberal Democratic Party; Fair Russia; Yabloko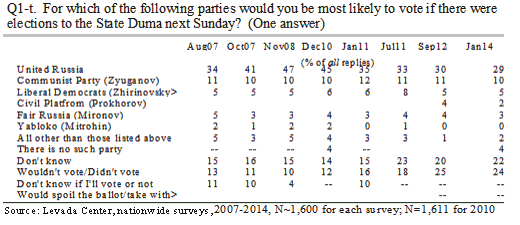 ---
220
Which of the following parties or political outlooks do you most sympathize with?
political, outlooks, sympathize, Levada Center, 8-12 December, 2006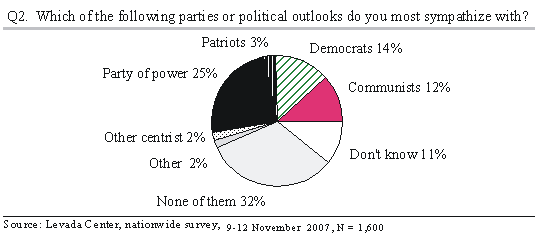 ---
003
If elections to the State Duma took place next Sunday, which of the following statements most accurately reflects your intention to vote?
State Duma, elections, next Sunday, reflect, intention, vote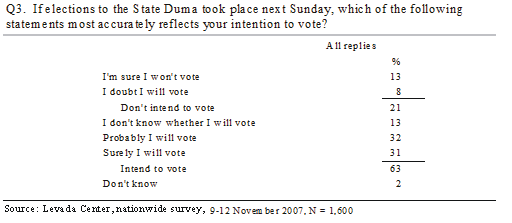 ---
103
(If not intending to vote) Why are you unwilling to vote or why do you doubt that you will vote in the elections?
State Duma, participation, vote, communists, politics, VCIOM, Nationwide Survey, November, 1999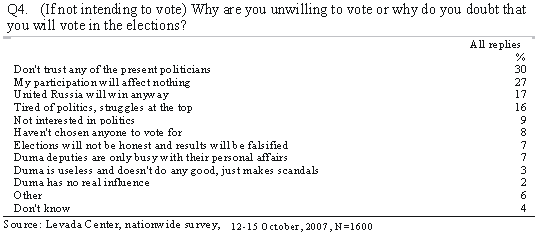 ---
410
Which of the following parties did you know about before today?
Communist, Zyuganov, Liberal Democrats, Zhirinovsky, United Russia, Gryzlov, Yabloko, Yavlinsky, Right Forces, Nemtsov, Agrarians, Lapshin, People\'s Party, Panfilov, Rebirth of Russia, Party of Life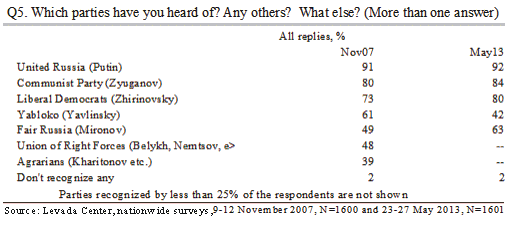 ---
423
Do you think that elections to the State Duma this year will be on the whole conducted according law and honest, or do you think they will be dirty (marred by slander, pressure on voters and machinations with ballot papers, etc.)?
elections; lawful; honest; fraud; ballot-stuffing; manipulation; transparent; open; dirty tricks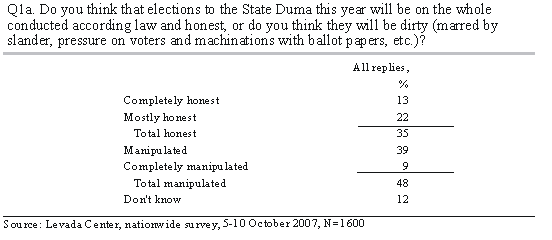 ---
505
Q. In which party's interests do you think the election will be manipulated?
United Russia; LDPR; KPRF; Fair Russia; Right Forces; Yabloko; Communist Party; electoral fraud; falsification; manipulation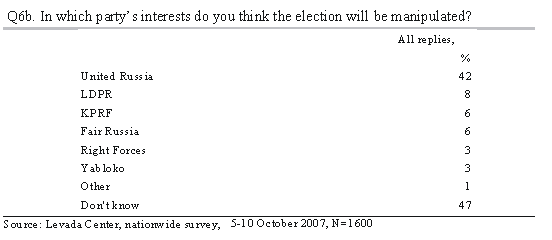 ---
502
Q. Will you protest if the party, for which you intend to vote is taken off the ballot on some false pretext or if votes are taken away from it during the vote count?
protests; electoral fraud; violations; street marches; courts; falsification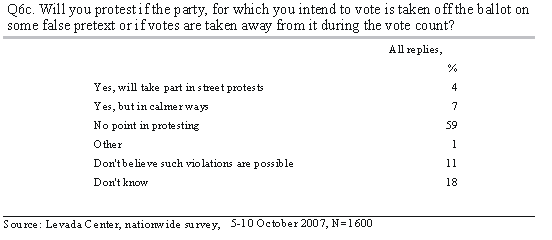 ---
415
What explains your intention to vote for this party or bloc?
leader, support programme, defends interests, normal, future, young, friends, family, strongest party,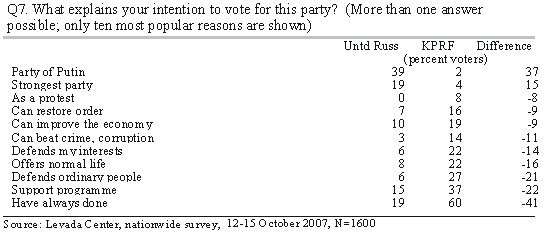 ---
414
(Only if chooses a party in Q1). How sure are you that you will vote for this party or bloc?
vote; preference; sure; intention; stability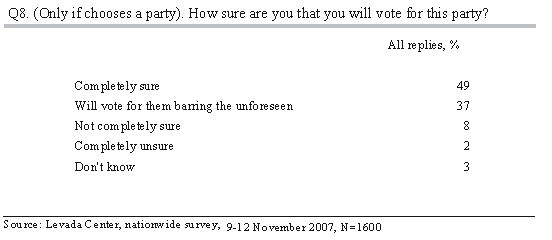 ---
013
What are the chances of the party or movement for which you intend to vote at the next elections?
chances, party, next elections, Levada Center, November, 2003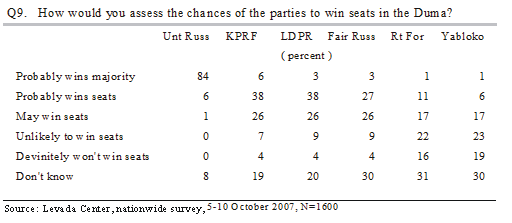 ---
015
And which of the following parties would you NEVER in any circumstances vote for in elections to the Russian State Duma? (Several answers possible, only the six most rejected parties are shown)
parties, never vote for, Russian State Duma, Levada Center, November, 2003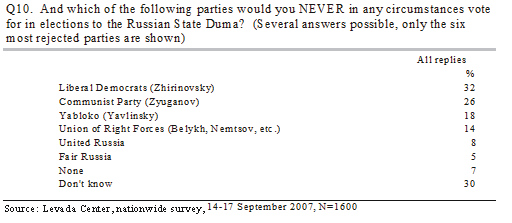 ---
491
The interests of which sectors of the population are represented by
United Russia; Communist Party;Oligarchs; Bureaucrats; Enterprise directors; Everyone; Siloviki, army; Ordinary people; Middle class; Intelligentsia: teachers, doctors etc.; Cultural/scientific elite; Poorest of the poor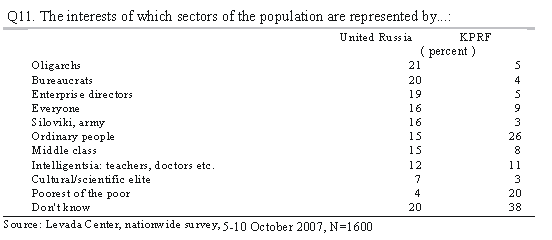 ---
492
Q. How would you react if United Russia became the ruling party in Russia for many
Approve; disapprove; United Russia; ruling party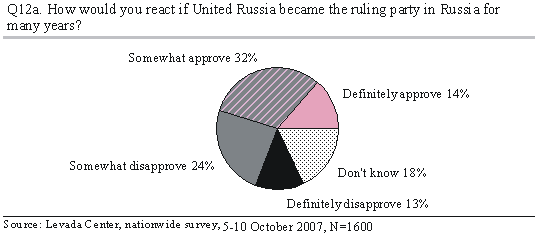 ---
493
Q. Do you agree with those who say that United Russia is the CPSU of today?
agree; disagree; United Russia; CPSU; ruling party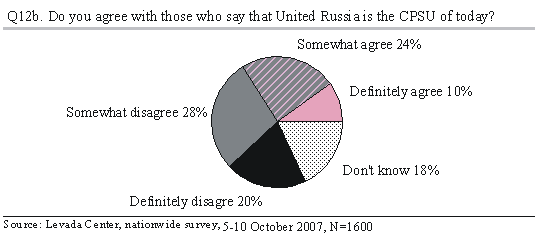 ---
511
Q. What happens when power in the country is held for many years by the same people?
stability; order; corruption; abuse of power; laws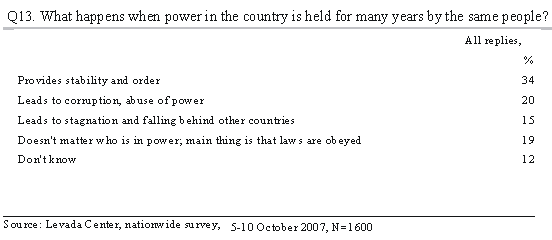 ---
494
Q. Do you think that United Russia is an independent party or only an instrument in the
United Russia; Putin; independence;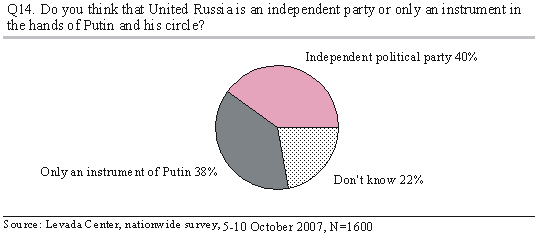 ---
496
Should Duma deputies have the right to leave their party? Should Duma deputies be able to vote as they choose?
Duma; imperative mandate; party factions; alignments; factions; party switching; party discipline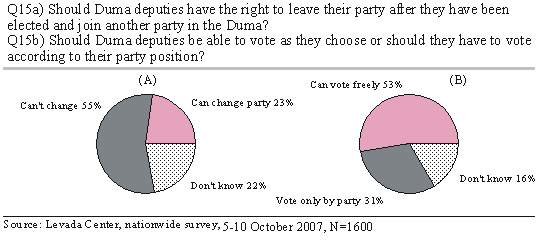 ---
501
Q. Do you think Russia needs a state Duma, or the life of the country could be just as well
parties; president; rule by decree; Duma; parliament; legislature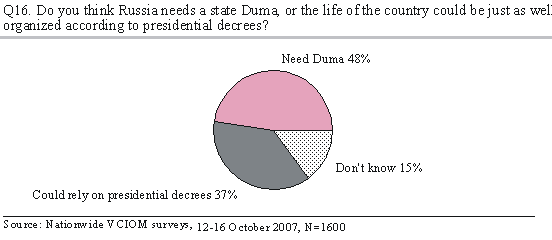 ---
507
Q. How many political parties does Russia need now?
ruling party; party system; number of parties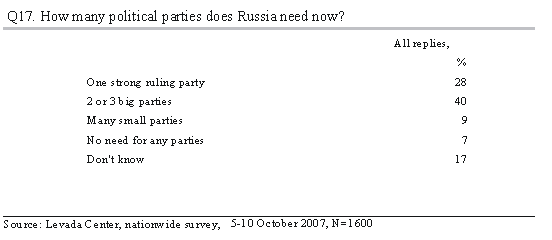 ---
Top of Page